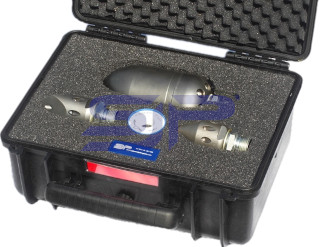 Product description
1" Sewer kit Budget male
Nozzle kits are value priced assortments of nozzles which save 15 - 20% compared to purchasing items individually.
Like all of our nozzles, the kits are custom made (correct ceramic inserts) to match your jetting unit flow and pressure specifications.
The result is optimized and fast cleaning performance from your jetting unit.
Each kit is package in a convenient and rugged cut out storage case.
This budget kit is custom made to work with only 1"BSP male connection.
Consists:
Combi Bomb nozzle (9,5 kg.) 5xM10 ceramic nozzle 30° pulling , 5x M10 ceramic nozzle 15° pulling (0301)
Streamer nozzle ceramic inserts (3890)
Pointed nozzle short all ceramic inserts 4 x front , 6 x pulling (3890)
3 x 1"BSP male adapter (mounted in each nozzle with bounded seal ring)
Nozzle cleaner set (15-099-125)
Teflon Tape 12 mtr.
Storage box (382718) water proof nice cut out 410 x 342 x 204 mm.
Part Number complete set: SJP-1-SWBM