½" Sewer kit Roket JH
350 Bar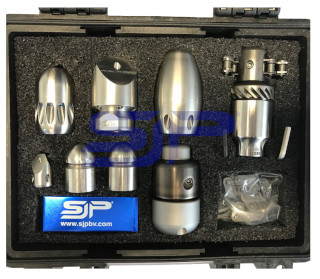 Product description
½" Sewer Kit Roket JH
Nozzle kits are value priced assortments of nozzles which save 15 - 20% compared to purchasing items individually.
Like all of our nozzles, the kits are custom made (drilled) to match your jetting equipment's flow and pressure specifications. The result is optimized and fast cleaning performance from your jetting unit.
Each kit is package in a convenient and rugged cut out storage case, with the right tools for mounting the nozzles on the hose, for each application the right tool in the kit.
This Sewer Kit is custom made to work with 1/8"BSP & ½"BSP connection.
Consists:
Super 12 nozzle P/N 1205
Pointed nozzle ceramic inserts P/N : 3-6160010
sewer drill all ceramic P/N : 3-617011.120
Roket ½"turbine driven P/N : 1995
Pointed nozzle drilled 1/8"BSPF P/N : 0619.9930
Button tip nozzle (2x) with and one without front jet ø 28 mm. P/N ½"BSPFSPEC
Front Rotor nozzle ½"BSPF P/N 1308
Nozzle cleaning set
Part Number complete set: SJP-2-1-1