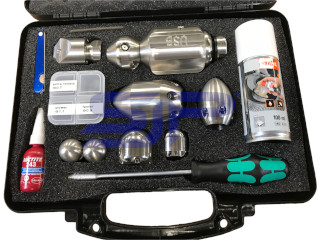 Product description
½"Sewer Kit Primus 1+
Nozzle kits are value priced assortments of nozzles which save 15 - 20% compared to purchasing items individually.
Like all of our nozzles, the kits are custom made (drilled / ceramic inserts) to match your jetting equipment's flow and pressure specifications.
The result is optimized and fast cleaning performance from your jetting unit.
Each kit is package in a convenient and rugged cut out storage case, with the right tools.
This ½"Primus 1+ kit is custom made to work with ½"BSP connection used for regular drain cleaning work and to clear out urine stone - grease and blockages,
Consists:
Primus 1 complete with nozzle inserts - special tools - extra inserts speed control - extra pulling nozzles in small box. 5005
Small Bomb nozzle st. steel 316 complete with ceramic inserts 3-6180010
Button tip nozzle st. steel 316 drilled 3-6120010
Standard drilled nozzle (button jets) pulling only ½"BSPFSPECNOZ
Standard drilled nozzle (button jets) pulling & front jet ½"BSPFSPECNOZ
Short button nozzle st. steel 316 with ceramic inserts 3-6130010
Pointed nozzle st. steel 316 with ceramic inserts 3-6160010
Egg nozzle with ceramic inserts pulling only 3-6170010c
Bottle loctite (inserts) glue 243 10ml. 07010025
Bottle Stihl Silicone Spray (100 ml.) 07970102053
Screw driver inside hex 3,5 for mounting M4 inserts 4123
Screw driver inside hex 6 for mounting M6 inserts 4126
Nozzle cleaner set 15-099-125
Flat compact nozzle box 310x256x80 with hard foam nice cut out 312508
Part number complete set : SJP-1.2-5005+