1"(½")Recycling nozzle sewer cleaning set
350 Bar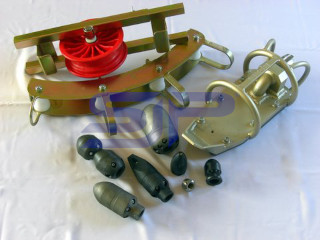 Product description
SJP Recycling
Nozzle kits are value priced assortments of nozzles which save 15 - 20% compared to purchasing items individually.
Like all of our nozzles, the kits are custom made (with correct ceramic insert) to match your jetting equipment's flow and pressure specifications.
The result is optimized and fast cleaning performance from your jetting unit.
In case for small sewer:
½" pulling nozzle ( 0904) with ceramic M4 inserts with M6 front jet.
Separate for Truck (all 1" connection with ceramic inserts):
1 x Pointed nozzle long (3905), 1 x granate (0503), 1 x bomb (0402), 1 x bulldozer (0204), 1 x Turbobomb (0305), 1 x KR nozzle (3804), 1 x Aquadrill (0625), 1 x Banana (deflection rollers 2504) for under sewer, 1 x deflection roller upper edge (2506).