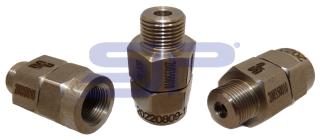 Product description
ST-350 swivel, very compact (hex 24 x 45 mm.), ⅜"BPSM/F connection
Stainless steel, flow up to 40 ltr./min. at 600 bar.
Temp. up to 100°C, weight only 105 Gram.
Part Number: 200350010
Repair kit: 200300100
Swivel mounted between inlet adapter ST2750 gun, please check attached second "document"
This Swivel is rated up to 600 Bar after testing in our facility,
Every swivel is getting the certificate number engraved of attached certificate, it's pressure tested at 800 Bar.
Swivel is cleary engraved with the max. wp - thread connection - part number like all our high pressure products.